Date: July 16, 2020
Time: 12:00PM-1:00PM (log on at 11:55am)
Location: Online
Description: Owner's Council Webinar Series, Session #5 of 6. 2020 OWNER TO OWNER SERIES - LESSONS LEARNED IN DESIGN-BUILD DELIVERY FROM LA COUNTY PUBLIC WORKS. Join DBIA-WPR Owners' Council for Session #5 of the webinar series, which foundation is built from the DBIA Manual of Practice. The theme is "Owner to Owner Perspective and Lessons Learned." A highly experienced owner, practitioner, or academic will present the 6 topics. July's 35-40min presentation titled "Lessons Learned in Design-Build from LA County Public Works" will be hosted by Massood Eftekhari of LA County Public Works. Are you interested in hearing from an experienced Owner with a solid track record in delivering Design-Build? Join us and hear from an acknowledged industry expert on how LA County is implementing a large Capital Improvement Program. Please listen in!
Speaker: Mr. Massood Eftekhari, DBIA - Deputy Director, Los Angeles County Public Works
Note: Registrants must follow link in the confirmation email for Go-To-Webinar registration/log in a minimum of 24 hours before webinar. No refunds will be granted for those that do not handle the webinar access 24hrs prior.
Click here to register online. Click here to view event flyer.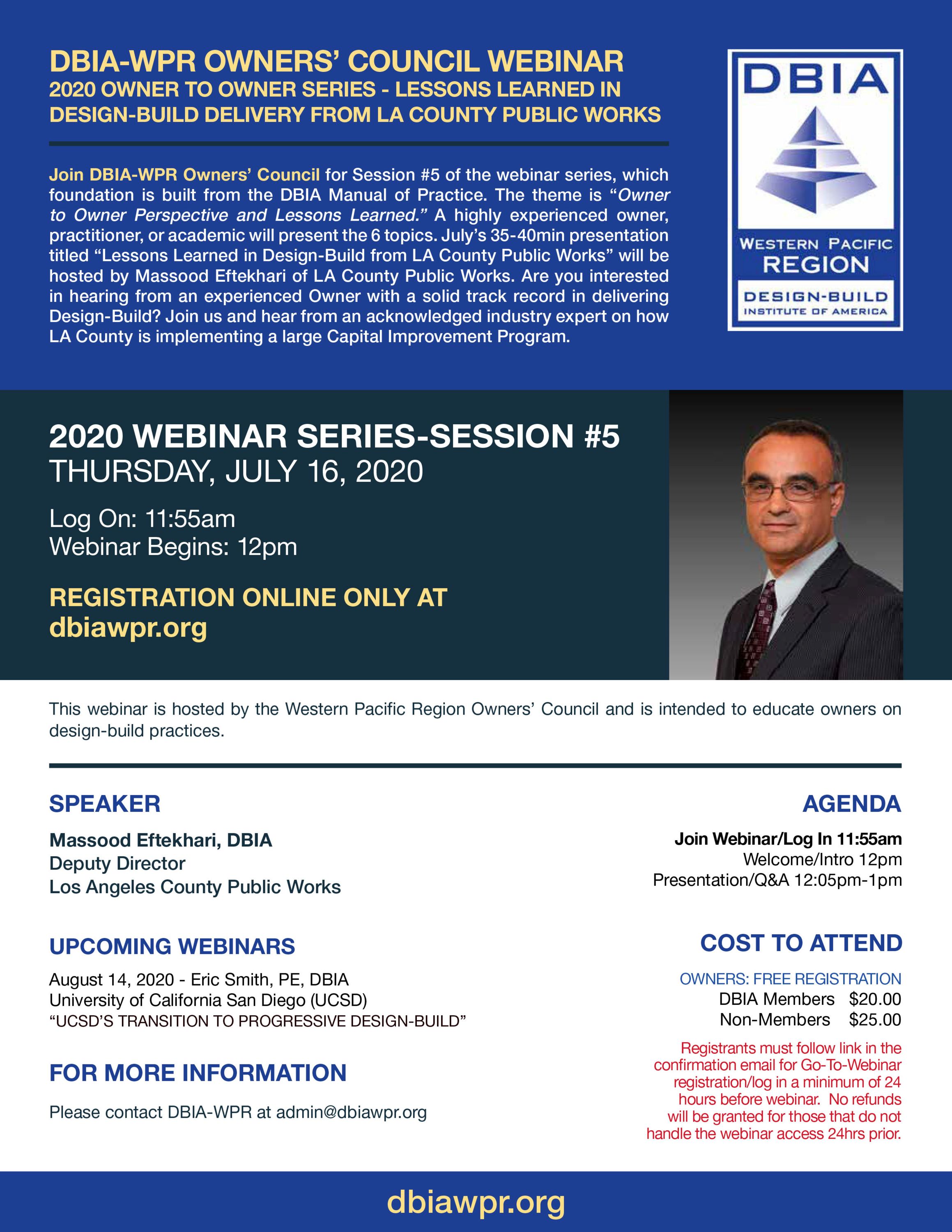 Future Webinar
August 14, 2020 – Mr. Eric Smith, PE, DBIA - Associate Vice Challencellor, University of California San Diego (UCSD)
"UCSD'S TRANSITION TO PROGRESSIVE DESIGN-BUILD"